We had such a large number of enquiries regarding business / commercial rates, we decided to officially dedicate part of our business towards supporting businesses.
We can make (almost) anything required out of our key materials which are:
·         Decking Boards
·         Rough Sawn
·          Planed Pine
If you have any requirements, from large troughs for factory carparks or relaxation spaces, or any rustic style furniture (indoor or out) please do not hesitate getting in contact with us.
Below are just some examples of what we have built. Nothing is too big or too small, we love a challenge! 
Please get in contact HERE for more information or to request a quote.
Wheelchair Accessible Garden Planters / Troughs
The first one is an adaptation of one of our standards products, a lined decking trough, however the customisation required was to make them accessible for wheelchair and seated persons (in this case a nursing home)
We added the ability for wheel chairs (or a seat) to be placed and the user being comfortable and have access to the whole trough.
Our elegant solution, is pictured below, our ergonomic design measured to fit the majority of wheel chairs comfortabley underneath.
On a personal note: the feedback from some of the residents was simply moving, giving them back the ability to do what they loved and missed dearly,
"since I've not been able to get down on my knees any more, no matter how much padding, I've missed being able to garden and tend to plants and my "veggie patch" this has ignited a little spark back into me"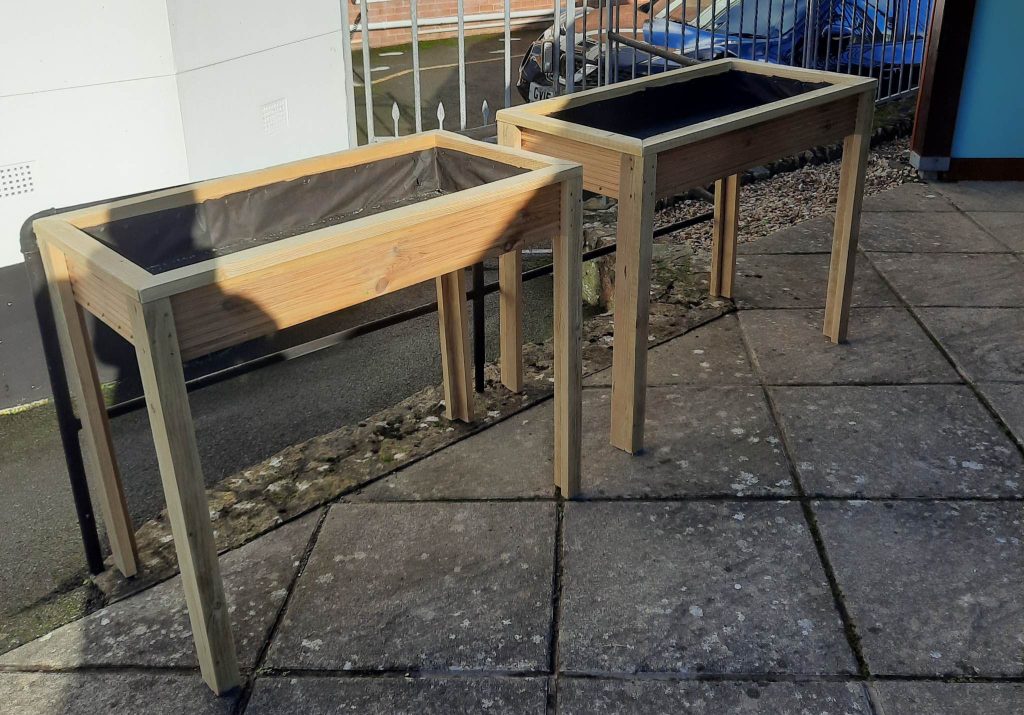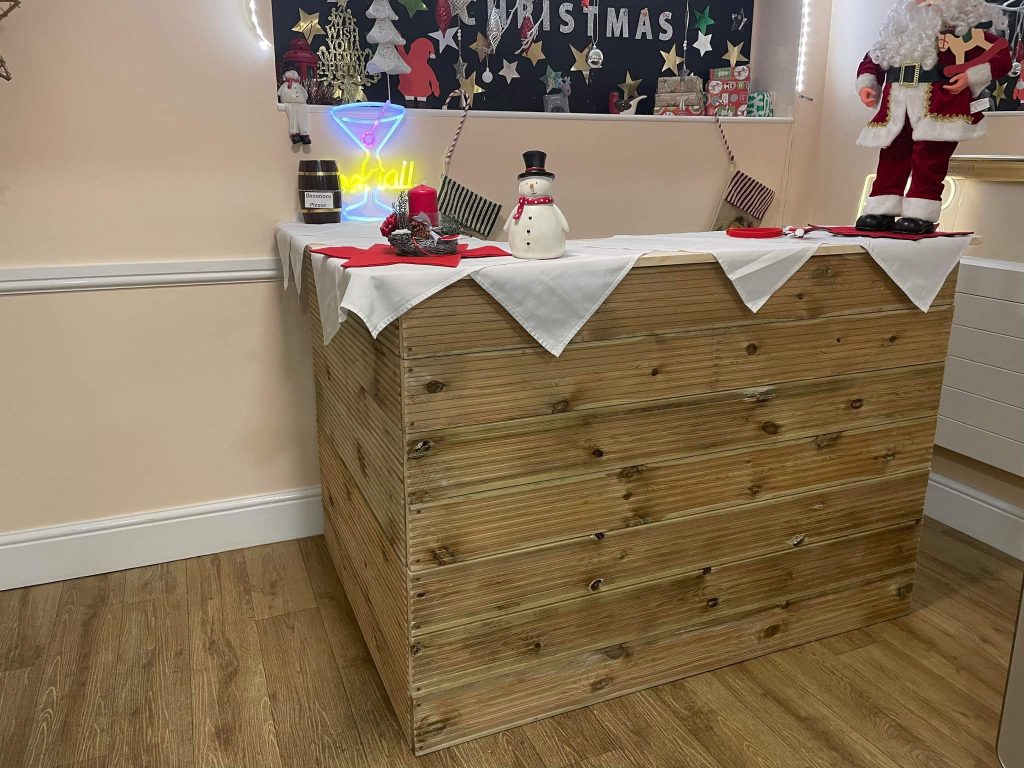 Almost anything you say. Well yes actually, the below examples are just from one of our business clients.
Ok, back to the "Almost anything part" in early December last year (2022) the same residential nursing home reached out to us in frustration as they wanted a bar (yes that's right a bar!) built in the common room so they could enjoy Christmas with residents as well as family and friends, they had been quoted literally thousands to build one, they wanted something rustic, so they came ot us.
After a brief discussion and a measure up, we delivered them their bar just a week later, we even installed it in place for them. The bar consisted of a "L" Shape design, with a bar top fixed firmly in place with amble storage and shelves below.
Once delivered and installed, the staff where "simple ecstatic" with not only the product, but our service and cost.
5m+ Raised Trough / Planter On An Incline
This client came to us with the request to build a continuous raised rough sawn planter spanning over 5 meters in length.
Just a normal day in the office for us… however the ground was on a gradient and they wanted it perfectly level.
No Problem! Good thing we have an experienced engineer amongst our ranks, this was no problem for Graham, a few measurements, calculations and a drawing, he got it degree perfect for an extremely happy client!
We event went back a few weeks later to make sure it had settled correctly and hadn't dropped on the slope. Safe to say it hadn't.
In conclusion now this is full and planted, it looks simply stunning in full bloom.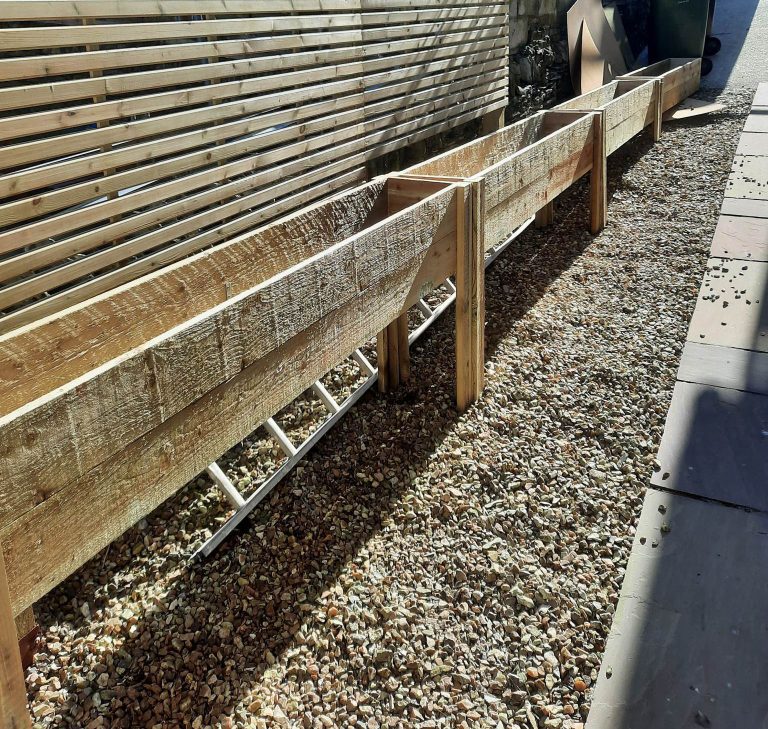 3-Tiered Corner Decking Planter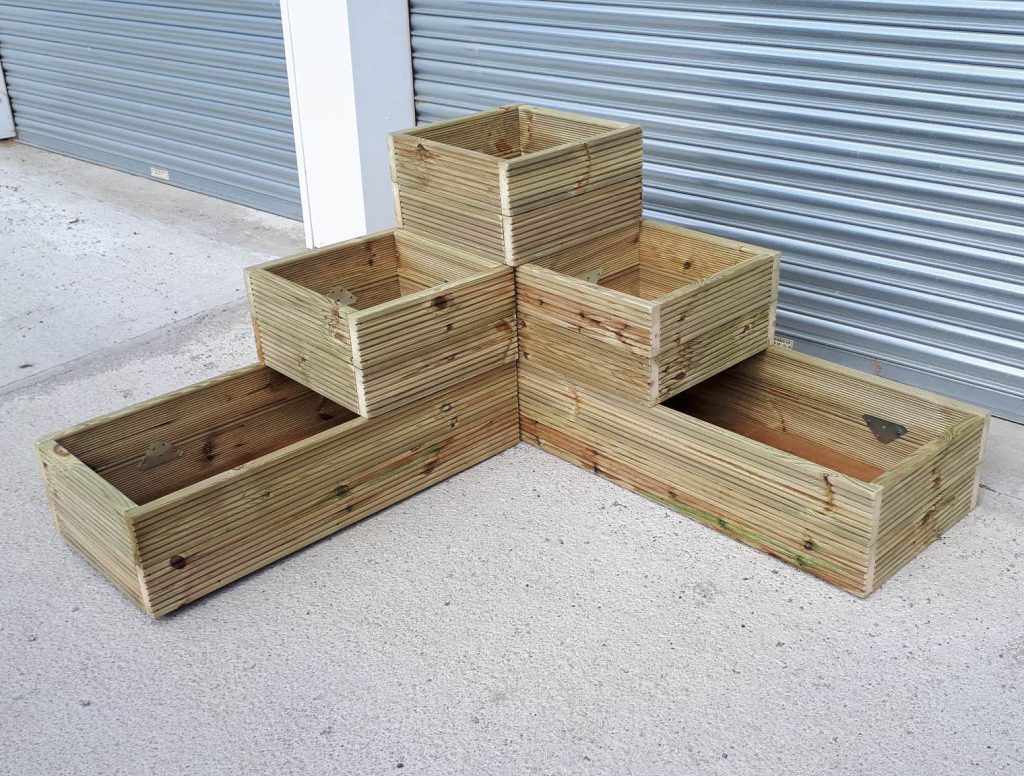 We made a smaller version of this for a private client,
when they showed their boss, they instantly though "we need one of these in the
common area" where the staff can eat their lunch.
After a quick phone call and sizes confirmed we delivered
this item built and put it in place for them.
It is now fully planted with a small tree in the top
compartment and some lovely seasonal flowers in the other 2 levels.
They are now looking for another 2 to fill up the other spare corners if this "eutopia" dinning area.